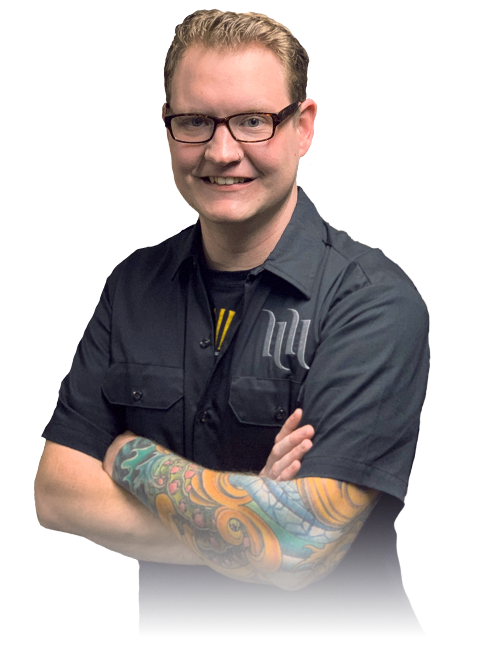 Austin Modglin
Hart & Huntington tattoo artist Austin Modglin is here to change your mind.
Forget everything you heard about tattoos – that they're only for the rough-around-the-edges type or something you should pull the trigger on, on a whim. 
"Tattoos are becoming more widely accepted. Even though there's still a stigma associated with them, tattoos have been a form of self-expression for as long as humans have been around, and it's human nature to express your individuality. Judgment should be placed on a person's character rather than their choice of expression."
That's all well and good, but when you get a tattoo from Austin, it's hard not to judge his exceptional artistry. People of all walks come to him to breathe life into their most precious memories and milestones in the form of Neo-Traditional and Bio Organic pieces charged with dimension, contrasting line weights, and the diverse shapes and textures found in nature; all of which he manages to merge perfectly with the human form. 
This Carterville, Illinois native expects his clients to have done their research before they take a seat in his chair – that they don't come to him on a drunken dare or without researching what he and H&H stand behind. It's quality above all. 
When he's not in the shop, he's drawing inspiration from the great outdoors while hiking and fishing. On rainy days, you can find him playing guitar or video games. Either way, he's already dreaming up new ways to alter your perception with every drop of ink.