That's the mantra Hart & Huntington tattoo artist Austin Modglin lives by.
It's something he learned during his apprenticeship after college and carried with him throughout his career to date.
It's what drives me to be better. I don't have a feeling that I've reached my potential yet, that there's always room for improvement. I'm not tattooing for the fame. I just want to be seen as an artist who does exceptional work.
Austin has always been an artist at heart, even since he was a kid.
I've been drawing for as long I can remember. I've always been kind of a loner, off in my own world, so art was something I could do on my own using my imagination and creativity.
But it wasn't until high school that he considered turning his handiwork into a career. 
I was always under the impression as a kid that art was fun, but you couldn't be anything but a starving artist. But then I was introduced to graphic design. 
He ended up earning his bachelor's degree in graphic arts in college, where he took a lot of print classes and produced a ton of illustrative work. 
That's when I realized tattooing could be a career opportunity for me because my style translates well into that. From then on, I always had it in my mind to go into tattooing after I graduated. 
He started his career with an official apprenticeship after graduating that summer. That's when he met Jimmy King, his mentor, who had just opened his own tattoo shop. 
I went in, spoke with him, showed him my artwork. He sent me home to do several rounds of drawings and eventually was willing to take me on and give me an opportunity.
But beyond knowing he was a talented enough artist to pursue a career in tattooing, Austin was in for a real surprise. 
There was a lot I didn't expect. While I'd been tattooed a couple times, I never really understood the business side of it until then. Things like the importance of preventing cross-contamination, setting up your station, how tattoos should flow onto the body. It was all new to me. 
Thankfully, Austin loves learning new things, so he soaked it all in like a sponge. 
Whenever I came in for the apprenticeship, it was always something new. Learning how to set up and build the machine, apply the tattoos to skin. It was a constant challenge, and I loved that. It never felt like a job. 
But the number one most challenging aspect of becoming a professional tattoo artist: obtaining self-confidence. 
I had major hesitations about putting needle to skin. There's no erasing this. It's permanent. Getting over the nerves, telling myself this is something I can actually do and do well was the biggest obstacle I had to overcome as an apprentice. Just getting out of my own way.
Austin's constant thirst for knowledge and sense of humility translates to his style of work to this very day. And it's something he plans to share with his apprentices in the future.
One thing I'd want them to learn is that this job takes a lot of dedication, hard work and time. It doesn't happen overnight. You have to be patient with yourself. The minute you think you know everything, you stop being a good artist. Everything should be a learning experience.
Working at H&H Nashville has allowed Austin to maintain that momentum.
The artists I'm with now at H&H are showing me new techniques, different ways to get set up, new artists to follow on Instagram. It's broadening my depth perception, helping me forge new paths and directions of how to do things. 
But make no mistake. Austin already knows his way around several signature tattoo styles. Like Traditional and Neotraditional, for instance.
My artwork has always been more illustrative and graphics related. I was big into doing posters and stuff like that, so I really enjoy how Neotraditional allows me to translate that into tattoos. Lots of bold lines, color, dimension, different accents. It's tattooing, modernized.
Austin's also into Biomechanical, a style he's working on perfecting.
I love the sense of contrast and texture, how it flows on the body. And how lighting affects those textures. It's a great way of making something look like it has depth on the skin. 
Image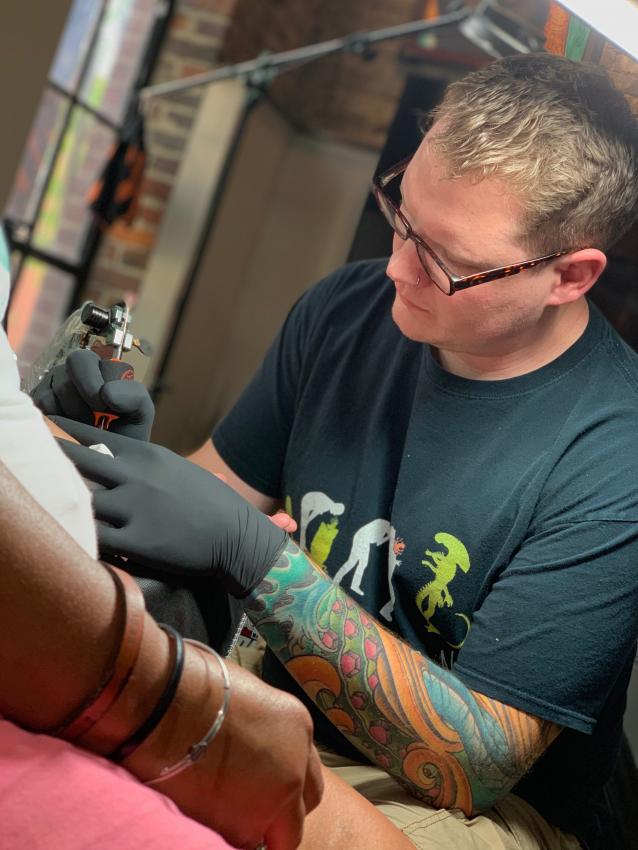 It's the struggle to learn new techniques that gets Austin out of bed every day.
What I get out of it is the sense of accomplishment. Especially on challenging pieces. When the client is ecstatic with my work, only then am I happy with it. That's when I get a real sense of pride and accomplishment. Like, "Wow… I did that!"
That attention to detail, to perfection, is what allows Austin to forge such strong relationships with his clients.
The more people come back to get more tattoos from you, or work on bigger pieces, the more they open up to you and tell you personal things. You become a confidant. I love hearing stories about their life, how their day is going. I feel humbled to get to know them and the effect you can have on each other's lives.
Now that he's an H&H artist, he gets to enjoy all of that.
Working at H&H has been great so far. I was previously in a small-town setting, so coming into a city now has exposed me to people from all over the world. That was a big jump for me. I'm in the big leagues now.