An insanely hard worker who's dedicated to the craft, Cody is constantly challenging himself to do better at reach even higher with every sketch and tattoo he starts.
He's been doodling since he was a kid and has been looking for ways to improve his skillset ever since. From as early as high school, when he excelled in art class and was commissioned by his peers to draw custom sketches for the front of their binders, to his time now with H&H, Cody knew art was his destiny.
I'd wonder how to make a living from art. I considered advertising, billboards, but figured I'd have to know someone to break into the industry. I dropped out of school at 18 and pursued a career in tattoos instead.
It was his mom's small heart tattoo that gave him the idea. And at 15 years old, he decided to get his own ink.
It was done unprofessionally, all the wrong ways, by my friend. My favorite band at the time was Slipknot, so I got their logo tattooed on my arm. It ended up looking tribal over time, so I covered it up.
But that experience ended up being a rite of passage for Cody.
Art has always been part of Cody's life.
It clicked in my mind that tattooing was a way I could pursue art as a living. I can give people a piece of art that'll be with them forever.
It was then that Cody started experimenting … on himself.
I wanted to learn really bad, so I used myself as a blank canvas. Turns out, it's really hard to give yourself a nice piece of artwork while pushing yourself through the pain!
Those first tattoos aren't his best work, but he kept each of them as a reminder of his start. Over time, he's worked to improve them, like the "mom" tattoo he has above his knee cap.
It's traditional, with a banner going through it, but I re-did it once I turned pro so that it looked crisp and new.
It's this tenacity to keep improving that sets Cody apart from the rest. He's seen his abilities as an artist skyrocket over the years – no doubt because of his hard work and dedication.
When I first started tattooing professionally, I thought I could draw well, but then I saw all of these amazing pieces of artwork coming out of tattoo shops and knew I could do even better.
So Cody set up an apprenticeship where he could learn the ropes—and then some. He buckled down, working on stacks of practice sheets, perfecting his line work, and mastering the fundamentals. It was rigorous, but he learned a lot.
I felt like the Karate Kid—they kept pushing me and pushing me, and it all paid off.
I had to learn how to make every sketch perfect, like a printer. When someone comes in with a design, our job as tattoo artists is to sit there and draw the tattoo until it's right. Everything has to be spot-on.
If someone wanted a tattoo of a bird, he'd study the anatomy of its wings. If someone wanted a tattoo of the grim reaper, he'd redraw it a thousand times over until the figure's hood fell at just the right angle over its skull-like face. Cody's mentor had him sit in on consultations, listen to what the customer wanted, draw several options, and see if any of them were better than what the actual artist proposed.
That apprenticeship taught me so much, especially how to read people and re-do a sketch until they're completely happy with the final product.
At the time of his apprenticeship, Cody found out he was having his first child, so the potential of a career meant the world to him.
This was something I wanted to do, and I was bringing a child into the world, so I really took it seriously.
With challenge comes opportunity. Cody landed a gig at H&H in Nashville soon after and hasn't looked back since.
Everyone is super nice here, super organized too. It's way different than anywhere else I've worked. I'm constantly busy, drawing and tattooing even during the slow season. I feel like I'm finally doing what I was trained for.
Image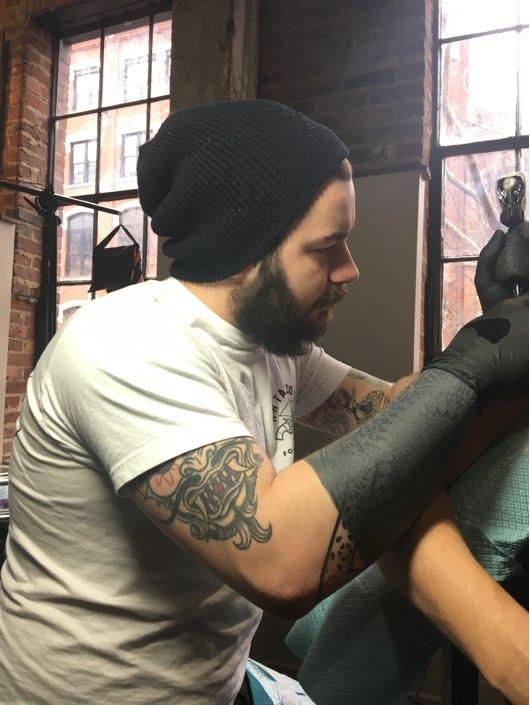 But the best part of working at H&H?
Being surrounded by other artists. To see different styles of art in action, how other people tattoo. I'm a sponge wanting to soak in everything I see, what's right and what's wrong, all the different formats.
It's what challenges him to keep striving for excellence. And that he does. Cody's handiwork is reflected in his ability to execute almost any tattoo style with finesse and ease, although he prefers Watercolor and Geometric.
I want to be the best and most well-rounded artist I can be. My children are what drive me. I want them to have better things than I did, and I hope they're inspired by art like I am.