You don't always get them in life, especially when it comes to tattoos. Once the ink hits your skin, it's on there for good. Even with a laser treatment, there's always a mark, a remnant of what was there. That's why we tell everyone to make sure they're 100% happy with the art they're getting when they come into our shop.
And no one knows that better than Brittany Tareco, one of our regulars at Hart & Huntington in Nashville, TN.
I was 18 when I got my first tattoo and I didn't think it through at all. I had actually set out that day to get my nose pierced, but the tattoo artist in the shop I went to told me they were having a 50% off sale, so I was tempted. I loved frogs at the time, saw some frog flash art on the wall, and decided to get it on my right shoulder in color.
You probably see where there is going.
It was a spur of the moment decision. My family wasn't fond of it, in fact they were pretty upset about it. It got made fun of quite a lot, so I eventually had to cover it up. Now I tell anyone who's considering getting their first tattoo to really put a lot of thought into what they want ahead of time. 
Lucky for Brittany, she was able to cover up the frog with some beautiful floral work, which she fell in love with.
Now the majority of the tattoos on my body are of animals and flowers. And I learned that I actually love Black and Grey, not color. It's really classy and allows you to see more of the details and fine lines put in by the artist. Color fades over time, so I also love the longevity of Black and Grey, especially because I'm in the sun a lot on the water, so they really last. 
Brittany lives in Franklin, TN but runs her own fishing charter business in Florida, which means she's fishing every day, working one-on-one with her clients, then coming home to keep up the company's social media presence and take care of her two girls.
Basically, she's a go-getter. Her latest tattoo is a reminder of that.
It says "She believed she could, so she did" in script on my right rib. Everything on my body has meaning, so this is no exception. I'm chasing every goal and dream right now, putting all my heart into it.
Image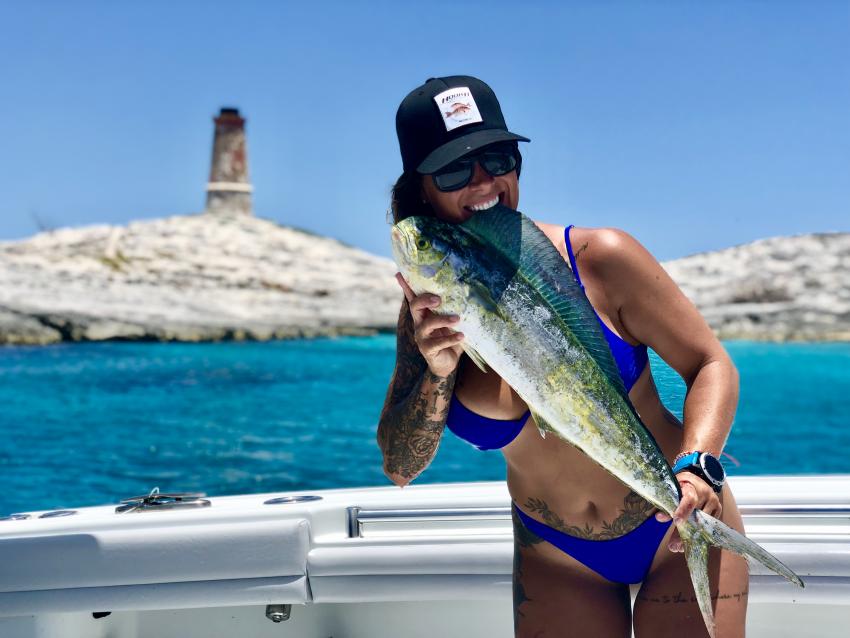 I always dreamt of running a charter business and fishing every day, but I never thought it would happen. I'm living my dream and that's what inspired that tattoo. You know, female empowerment. We can do whatever we put our minds to.
But before Brittany got that tattoo, she did her research. A lot of it.
I search long and hard when it comes to choosing my tattoo artists. I'm very picky. I look at the artist's work and how much I like their Black and Grey. Hart & Huntington had the best reviews and the artists really stood out to me. Especially Mel.
Hart & Huntington tattoo artist Mel Lockett specializes in Black and Grey, and a lot of her work is focused on the natural world: flowers, textures, foliage.
Her work is just really, really good. Not many artists in Nashville do Black and Grey how I like it, it's always way heavier than it should be.
But Mel posted this tattoo of some peonies she did with these delicate fine lines and I knew I wanted to work with her. 
Brittany's first tattoo from Mel was a set of coordinates on her collarbone. 
I looked at her writing beforehand. She had great penmanship with tattooing, so I knew I'd be happy with the outcome even with the simplest of writing or numbers.
One of Brittany's family members got his full sleeve done by Mel, so she'd already heard rave reviews of her work.
When I sat down with her for the first time, she was all about what I wanted, to make sure I was happy with the font no matter how many times I changed it up because it's something that's going to be on your body forever. She went above and beyond to make sure I was 110% comfortable the whole time. She asked about my family member. We found that common ground, talked and laughed. It was a really good experience. I knew then if I was ever going to get another tattoo done, it would be at Hart & Huntington with Mel. 
Unlike other tattoo shops, Hart & Huntington is focused on the experience, not just the ink.
A lot of the times at other shops, your tattoo artist just wants to get the tattoo over with and move onto the next client. I didn't expect to have such a great bond with Mel. She takes time to learn about you, ask questions. It makes me want to continue to come back to her, and I'd happily send all of my friends and family to her, too. I've had nothing but great experiences with all of the artists at Hart & Huntington.
Hart & Huntington tattoo artists are hired not just for their artistic abilities but also for their people skills.
They'll help you on design. They listen to what you love, what you don't love. What your needs and wants are.
And space matters, too.
The Hart & Huntington Nashville shop is awesome. It's not like a normal tattoo shop. It's big and open, inviting and welcoming. It's just a modern, cool place you want to tell your friends about it. 
Image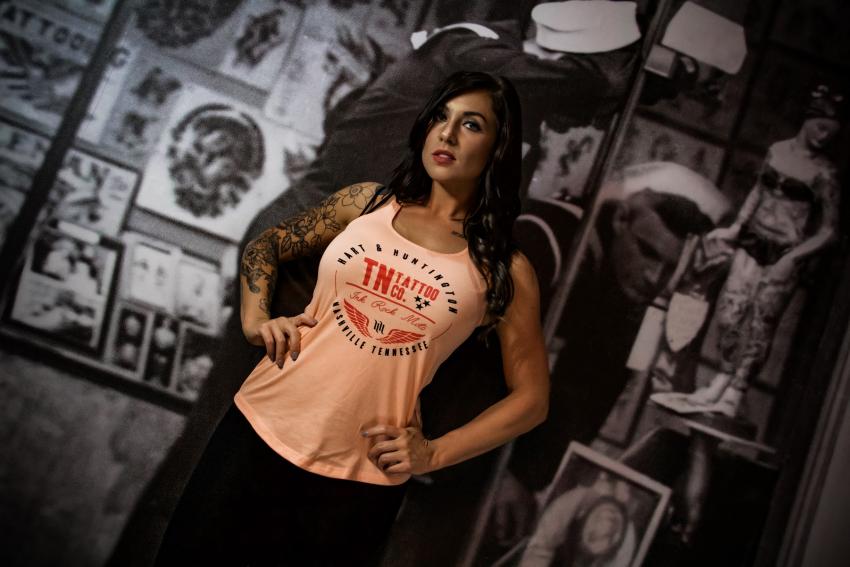 We try to think of the whole tattoo experience, from start to finish. How we can make you, our guest, feel at home.
You're comfortable as soon as you arrive because they have a TV and comfy chairs while you're waiting. You can stand next to the glass and see other people getting tattooed unlike traditional shops where everyone is really secluded. And yet there's still a sense of space. 
You don't feel overcrowded or on show when you're in the chair.
There's no doubt, I'm definitely going to find a spot on my body for another tattoo because I can't wait to come back here. 
But first, she's going to plan out exactly what she wants that tattoo to be.