An Atlanta native but currently a Nashville local, he's been satisfying his craving for fresh ink at Hart & Huntington for the past six years.
My grandma taught me how to cook when I was growing up, and I've been working in kitchens since I was 13.
Image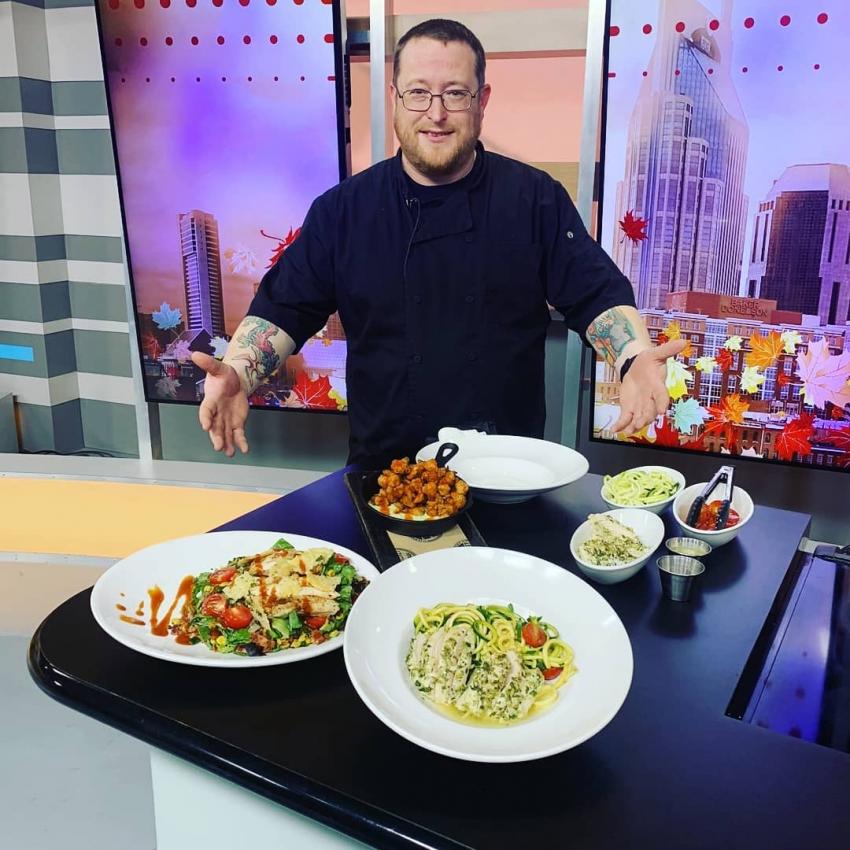 He became a chef when he was 22, and never really considered getting a tattoo because he thought it might prevent him from getting hired. But then a friend back in Atlanta convinced him otherwise, and he hasn't looked back since.
My fiancé wanted to get a tattoo at the time, so we ended up getting matching ninja stars. Hers is tie-dye, mine is orange. Some of her friends ended up getting them too. Each is different. It turned into a kind of thing.
He also has a traditional green and red dragon inspired by Falkor from The Neverending Story.
I was nervous at first. Everyone was telling me how much it would hurt to get my first tattoo.
Image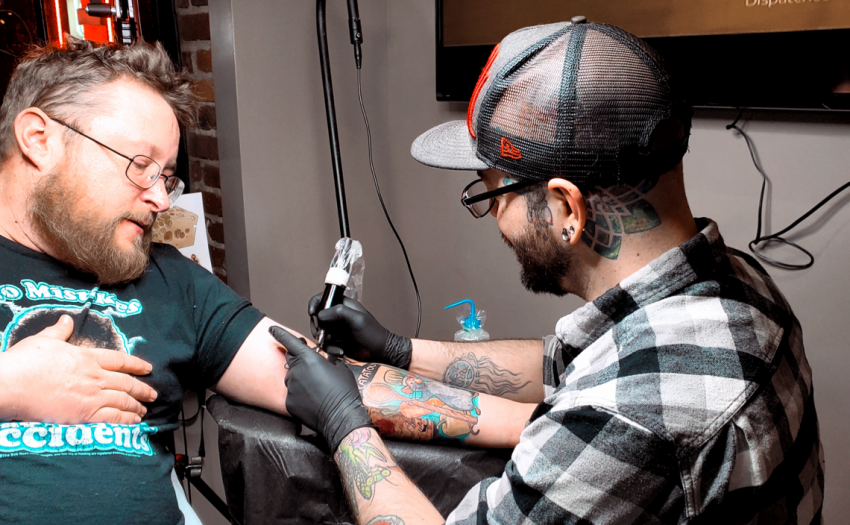 He ended up falling asleep and woke up when it was done.
I was like, "Oh, that's it?" It was way more relaxing than I thought.
Now even after a long day at work, he never hesitates to go see Dustin at the shop in Nashville. He's worked on his latest tattoo: a full sleeve dedicated to the Disney movie Ratatouille. It's a tribute to Josh's career as a chef, but it's also his daughter's favorite movie.
I'll go see Dustin at 4 in the afternoon and let him draw on me 'til 10 'o clock at night.
He found the H&H Nashville shop when he was researching tattoo parlors in the Nashville area.
I didn't know anything about the place or the company itself. I just walked in and was really impressed. It's nice and clean, and everybody who works there really cares about the place and enjoys what they're doing. You can see it's not just a job for them.
Hart & Huntington immediately made an impact on Josh.
I'd checked out a couple of other shops, and it stood out from the crowd. I was super impressed with how the building was set up. It's the only place I'll go now.
Just like choosing the very best ingredients for a dish, you get what you pay for when you get a tattoo.
It's a little more expensive than other places, but the quality is amazing and the people are, too. After going in there and talking with everyone, I immediately felt comfortable.
He'd looked at Dustin's portfolio before deciding to work with him. Dustin had never seen Ratatouille before he started Josh's tattoo. But he researched the hell out of it.
I loved Dustin's work and felt confident with him the whole time. I came in with just a picture of the character Remi holding a carrot with some herbs and peppers around him. Dustin took it from there and added a wooden spoon and a chef's knife. There hasn't been a single thing I wished he didn't do.
For Josh, Nashville has always been a great place to live. It's a big city with small-town vibes where you can easily get to know your neighbors. That's how he felt working with Dustin.
We talked about anything and everything while he worked. It was like sitting at a bar and having a conversation with a friend. Some of the other H&H artists would come and look in on us, and comment on how my tattoo was coming out great.
It was such a great experience that his one Ratatouille tattoo has turned into a half-sleeve featuring other characters from the movie.
Once pandemic's over, we'll keep going and finish it up as a full sleeve. We're talking about adding Linguine and some of the other characters. Really as many as we can. Whatever Dustin wants to do, I'm good with. I'm like, "You don't even have to show me, just go for it."
He'd recommend anyone considering getting inked to go to Hart & Huntington.
I have a friend who's considering getting his first tattoo, and I told him 100% to go to Hart & Huntington. Go to see Dustin or any of the other artists. They're all great there. Go in with your own design and let the artist do their thing. It'll always come out great.