They've been married for about seven years now and share a collection of tattoos inspired by their time together.
N: Each one tells a story, and they're so pretty. I love looking at them and when people comment on them.
You won't meet a nicer couple. The Smiths live in Huntsville, Alabama but often make the trek out to see Hart & Huntington tattoo artist Dustin in Nashville to add to their growing collection.
N: If you look at us side by side, our tattoos are in the same place. It's something special we share.
For them, tattooing is a rite of passage, a way to commemorate something personal.
D: I got my first few tattoos when I was 18 years old and have been hooked ever since. It was a very positive experience.
N: I also was about 18 or 19 when I got mine. I had the nickname Sunshine growing up, so I got a sun tattooed and loved it. I felt like no one else had it. It made me unique. It was something I did because of who I was.
Great tattoos tell a story. They have meaning. That's why Nancy only got a few more done sparingly over the years. That is, until she met Dustin.
N: We were headed to Nashville because I had tickets to see Pink in concert. Shortly before going up there, I decided I wanted a skeleton key tattoo. I researched places nearby and saw that her husband, Carey, was part owner of Hart & Huntington. I went on the website, started looking at everyone's bios and was sold from there. The intricacy of their work was amazing.
She booked an appointment, put in a deposit, and the rest was history.
N: When I got there, they put me with Dustin and he impressed us from the get-go. I knew anything else I was going to get after that was going to be done by him.
She came in with a couple of pictures of skeleton keys and showed them to Dustin.
N: I told him how I liked the top of this one, the bottom of that one, and let him design it from there. It's exactly what I envisioned. Actually, it's prettier than anything I showed him. That's how all of them have gone with him. We tell him what we want, show him some ideas and he blows us away. His work always comes out so sharp and detailed.
Image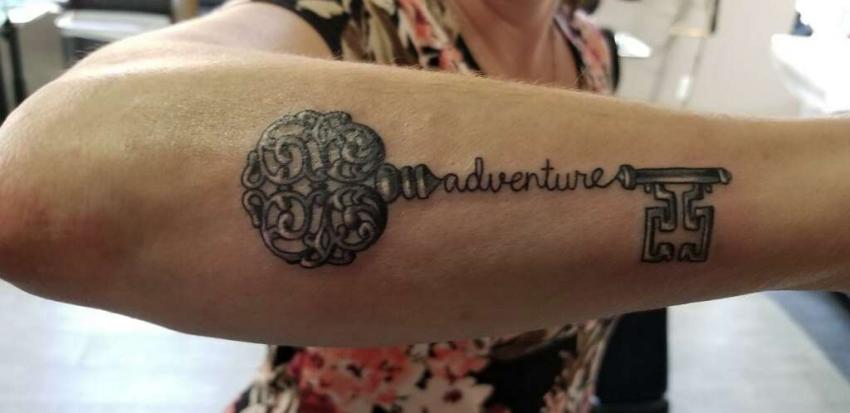 Since then, the Smiths have been coming to the H&H Nashville shop together whenever they want to commemorate a special time in their lives that they've shared. Like the custom compass rose they both have on their arms. And Derrick's tribute to his Cherokee heritage.
D: Since we've been going to Hart & Huntington, the last cumulative 11 tattoos we had done were all by Dustin, and they mean more to us than any other artwork we have. They mean the most because they represent what we've gone through together. The whole experience with Dustin personally is one of the main reasons we drive as far as we do and request him.
For Derrick and Nancy, it's always quality over quantity.
D: It's like brain surgery. You don't shop for the cheapest, you shop for the best. Even though there were tons of other tattoo shops in the area that are cheaper, we always go to Hart & Huntington.
Image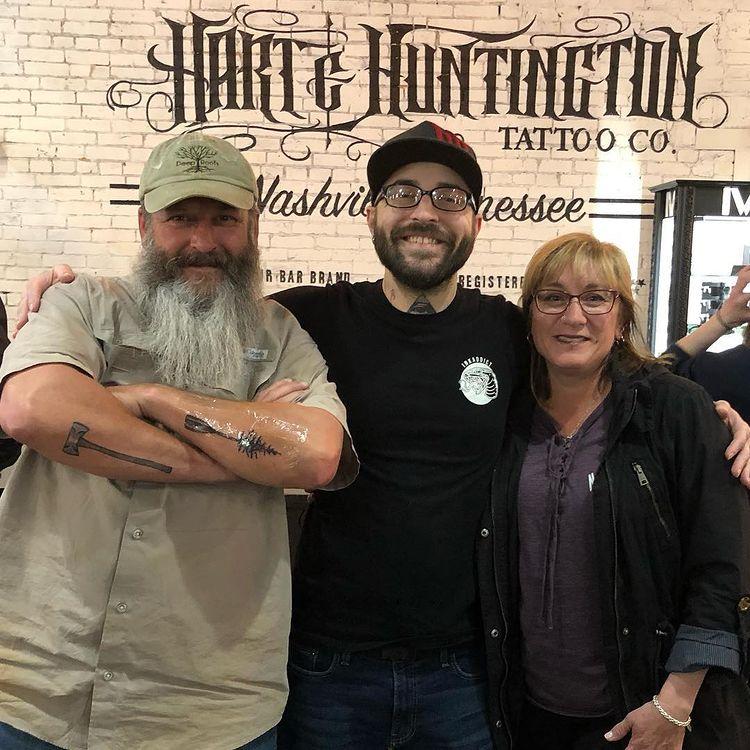 N: I feel like I've known Dustin forever. He makes the whole experience so comfortable and relaxing. He never says anything like "you need to do this" or "you should do that." He always gives us lots of options and suggestions. It's an absolute custom experience.
But it's not just Dustin that has the Smiths coming back.
D: It's the professionalism. The environment. They have a great team of people there. It's always nice and clean, and everyone is always so welcoming and excited to have us. It's just great.
The Hart & Huntington experience is totally unique. So much so, Nancy and Derrick were willing to risk their kayaks for it.
D: Nancy and I kayak a lot and, last year, we parked in downtown Nashville with them in tow and risked having them stolen by leaving them on the street while we went to get some art done by Dustin.
When it comes to getting a tattoo, your expectations should always be high. This is something that's going to be on your body for years to come.
D: Every time I go, I'm more impressed than the last and the tattoos turn out better than I expect. I have high expectations and Dustin still surprises me with every visit.
Getting a tattoo is a special bonding experience for Derrick and Nancy.
N: Derrick likes the Zen of it. He closes his eyes, sometimes even takes a nap and wakes up to a beautiful piece. Not me, though. Dustin and I hit it off. We chat the whole time and have gotten to know each other. He's so friendly and fun to be around. He's also really patient and asks if you need to take a break. He's just a great person and the fact that he's so talented at what he does just shoots him up another notch or so. I don't know what else to say about the guy except that he's just amazing.
Image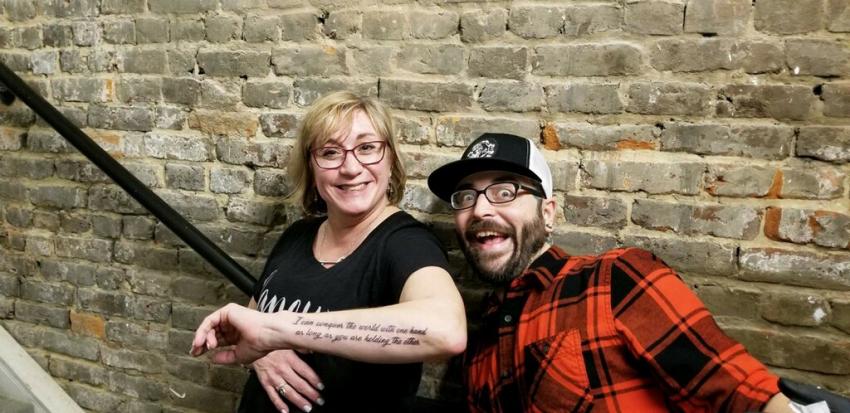 Nancy has sent a couple of coworkers to see Dustin, one who wanted to get her first tattoo and another who needs to revamp and modernize existing ones.
N: Dustin gave me a stack of cards and I've been passing them out. When it comes to getting a tattoo, you're going to get what you pay for. You might have sticker shock, but if you're going to do something to your body and put a piece of art on it, you should get exactly what you want—that's worth every penny. If anyone asks me where to get a tattoo, it's always going to be Hart & Huntington.
It's probably no surprise that she and Derrick plan to keep coming back for more.
N: You just get that itch for the buzzing, the prickle on your skin. You know you're going to come out of it with something that's beautiful, a piece of art you can carry around and tell stories with.
Derrick and Nancy have plenty of stories to tell.
N: We like to get out and do stuff. We've been sky diving, we go hiking. You name it. It's just about going out and finding the fun things in life, even if they might be a little bit scary. The adventure of life itself with this guy sitting next to me, that makes life worth living.
Image