That's the best way to describe Maghon Taylor.
She's an artist, author, business owner, mom and wife. And one of the most positive people we've ever had the chance to meet.
As a professional calligrapher, she's best known for her hand-lettering company called All She Wrote Notes, where she teaches people to perfect their penmanship one letter at a time, and all while spreading joy in the process.
I'm based in North Carolina, but I teach lettering across the country. I'm on a mission to spread happiness through my handwriting.
She makes a point of using bright colors and whimsical fonts throughout her work, along with positive and encouraging messages.
She recently wrote her first book (her self-described second baby), and she's been traveling a lot to promote it. Lucky for us, that's how she found Hart & Huntington.
I knew I wanted the word "happy" tattooed on my wrist in my handwriting, so I actually brought the art with me on my travels and was going to get it done at another shop, but they were horrible.
Image
Stereotypically speaking, Maghon isn't the type of person that comes to mind when you think of tattoos.
I'm a blond girl who wears a lot of hot pink – you don't see a lot of people like me come in to get a tattoo. And this first shop I went into rolled their eyes when I walked in. They made me feel like a Skittle in a bowl full of Cheerios. They were so mean, so rude and made a point of making me feel like I didn't fit in.
She ended up walking out of there.
I was literally getting the word "happy," so I want someone happy to do it for me.
Getting a tattoo is a milestone, an experience you'll never forget. And after that encounter, she felt so discouraged, like they'd taken that special moment away from her.
But then my husband and I were in Nashville a few months later, and we walked by Hart & Huntington. I thought the place looked so cool, so I looked them up on Instagram and fell in love with it. It didn't look like any of the other shops I'd been to.
A few days later, she returned to get her Happy tattoo done, which would be her fourth piece of ink in total. Maghon got her first tattoo after she graduated from high school.
I was kind of the rebellious high school kid. Me and two of my girlfriends went out and got our first tattoos at 18. My friend Rachel drew it, and we all got the same one. I kept it a secret for a long time, but felt so cool for having it.
Five or six years later, she got "shine" tattooed on her wrist in white ink.
It represented a hard season I went through in life as a reminder that, if I could get through that, I could get through anything. 
She got her third right before she got married – another meaningful piece of art, a memory cemented.
I met my husband in first grade, and I'd saved a love note he'd written for me when we were little kids. He'd drawn this heart with an arrow at the bottom in pencil. I ended up putting it on our wedding invitation as a design element, and then got it tattooed on me before our wedding so I could show it off in all our wedding photos. It's my favorite one of all because of the history of it.
That's a tough act to follow, but her first experience at H&H was one for the books.
I didn't make an appointment at Hart & Huntington, I just came by one day during our visit to Nashville. And it was the best decision. The team made it an amazing experience for me. Everyone was so nice, so sweet. 
H&H tattoo artist Tarik did the honors of bringing her long-awaited Happy tattoo to life.
He was so complimentary of my writing and very careful to make sure the letters didn't stick or run together when he was working. When I told him and the team I wrote a book, they were like "Woah, you wrote a book! That's amazing!" and stopped to sincerely congratulate me. It felt like they were just as excited as I was.
That meant a lot to Maghon.
This tattoo was in my handwriting. I've done tons of custom tattoo art for other people who wanted to get something in my handwriting, but I was so hesitant to do my own. I couldn't stop critiquing it and was really hung up on it. But as soon as I showed Tarik the word on the cover art of my book, I felt confident. He and the team made it such a special moment for me.
Unlike her other more discreet tattoos, this one really stands out. 
It's my first black tattoo, so it's not to be missed. Tarik helped me find the best size and place for it, and it came out perfectly. I wouldn't change a thing – and it wasn't how I'd originally envisioned it. I wanted it double the size, and I know I would have hated it if I had gone through with that. I just love it.
Maghon wears it proudly on her right hand, the hand she uses to bring her creative ideas to life.
I'm so proud to show it off and have a conversation with people about it. Everyone comments on it. 
Image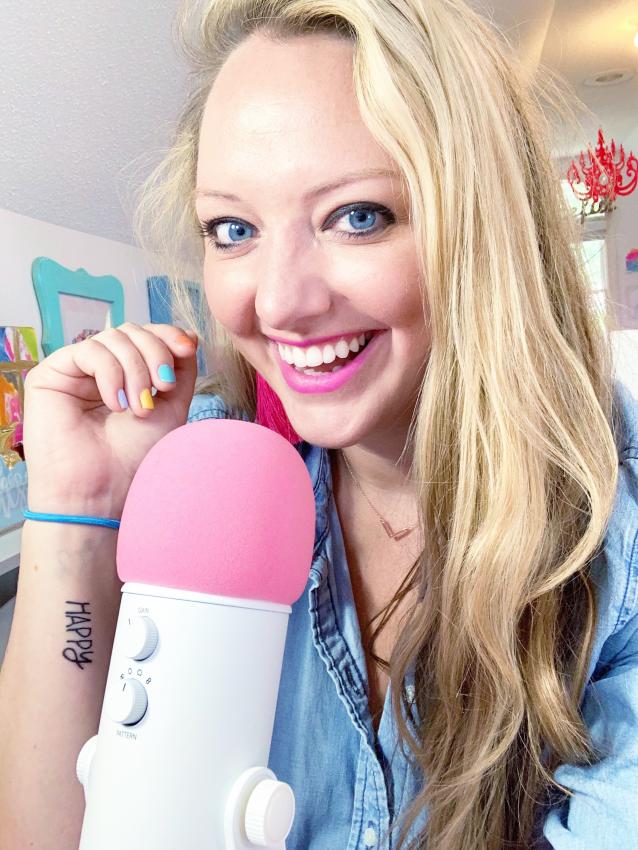 But beyond loving the final artwork, it was all about the positive experience for Maghon.
Getting a tattoo marks a special moment in your life. Even if you get a hundred, you remember each and every time you got one. You're paying for the memory, not just the art. I don't think I could go back to another place now having gone to H&H.
A warm welcome can go a long way.
Just the friendliness and expertise of the people who worked there, how the staff treated me like a friend…I truly felt so welcome and celebrated. It was worth every penny. In fact, I'd pay four times the amount just to have that experience again.
It's all in the details.
Even at the end, they sent me home with a goodie bag containing all the stuff I need to help my new tattoo heal properly, including a cute brand of castile soap. They went the extra mile knowing I was in town visiting, so it wouldn't have been easy for me to get that stuff on the road.
But that's not all.
When Tarik went to wrap up the finished tattoo, he even went out of his way to find pink gauze for me because he knew I'd like it better.
Maghon's husband, who came with her to get the tattoo, doesn't have any ink of his own. 
He's never wanted a tattoo, but that whole experience made him like "I kinda want one now!" It was the opposite of anything we'd ever experienced in the tattoo world before. I'm such a fan of Hart & Huntington, and I'd encourage anyone considering getting a tattoo to go there.