That's definitely the case for William Cleek. He's a die-hard NASCAR fan with a tattoo on his body for every track he's visited. Twenty-two total, to date.
Image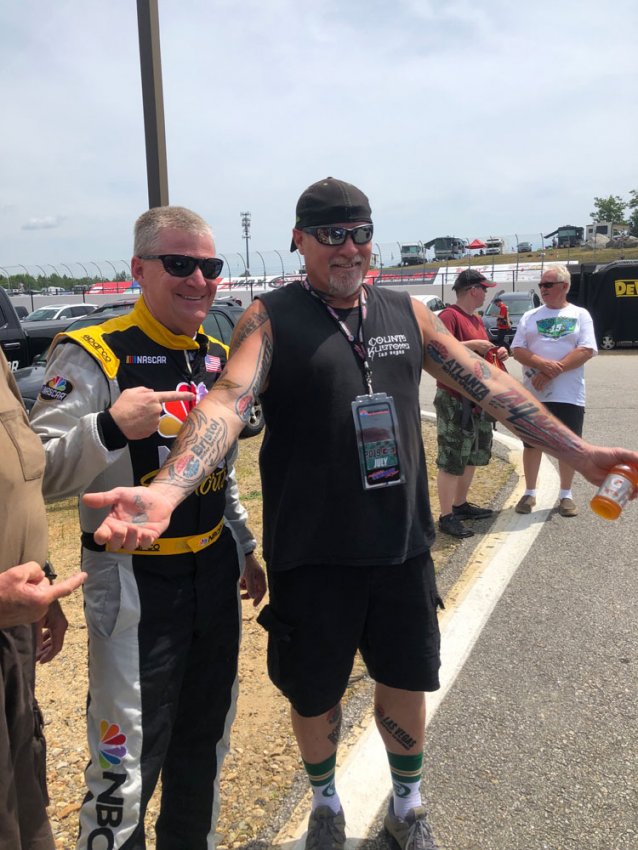 WC: When NASCAR season comes around each year, I try to hit every race I can. I have the need for speed, and I love how fast they go.
If it's a new track he hasn't been to before, he gets a new tattoo of its logo to commemorate his visit. If he returns to a track, he gets a checkmark next to its corresponding emblem.
WC: I just love it. There's a lot of good people in NASCAR. It's a great atmosphere and an awesome experience to see a race. It's more than just making a left-hand turn: you have to be physically fit to drive and your car has to be in top shape. But really, it's an escape for me, a way to be free and have a good time.
But William wasn't born and raised a NASCAR fan. His love for the sport happened in passing.
WC: I was coming back from Atlanta with my ex-wife and son in 1998 or 1999. We were heading west on 20 toward Birmingham, when I saw all these flags near Talladega, and we wondered what was going on. I pulled over, found out it was race day, and bought all three of us tickets. That's how it all happened. From then on, I was hooked.
William's first NASCAR tattoo was of the Talladega Speedway logo.
Image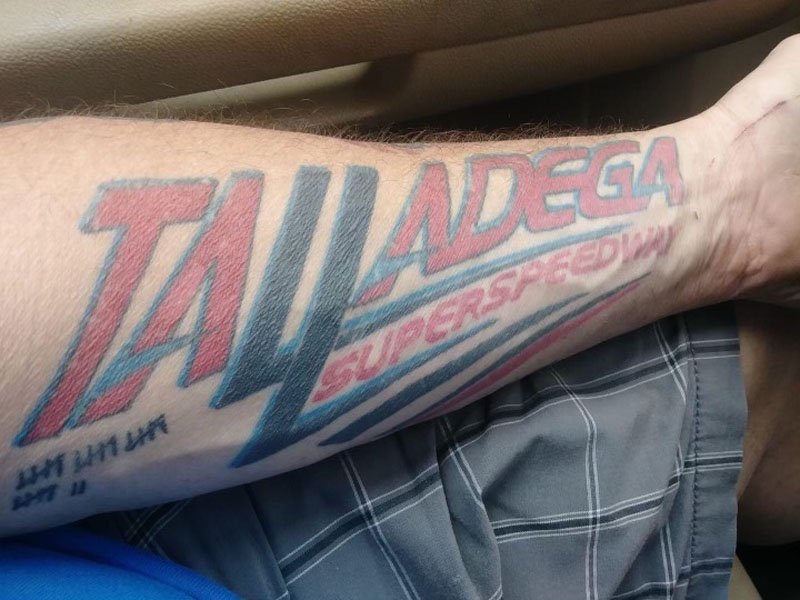 WC: It was my first tattoo after my daughter's name. It didn't hurt and I enjoyed it. Since then, I've just kept adding to my collection. Other people might think it's stupid, but I like it. I'm really into NASCAR and it makes me happy.
After Talladega, he added Bristol, Atlanta and Dover to his growing collection. Most recently, William toured the tracks over on the west coast, which meant getting tattoos of the Phoenix, Vegas, Auto Club, and Sonoma logos.
WC: Right now, I only have about four more to go, but NASCAR is always coming up with new tracks. I don't know what I'm going to do...I'm running out of real estate!
But it was perhaps the tattoo he got for the Nashville Superspeedway that's most memorable.
WC: I was sitting on the stands at the race, and one of the newscasters spotted me and took a picture of my tattoos. That's how Greg saw me and got ahold of me.
Greg Herring, that is. He's the Director of Marketing, Communications & Community Engagement for the Nashville Superspeedway, and one of the guys responsible for bringing that track back to its former glory.
GH: The track had been closed for about 10 years and people were skeptical when we said we were going to reopen it. Even Dale Jr. But we were the first 100% capacity, sold-out event in Tennessee since the start of the pandemic.
It was a rebirth for the Superspeedway. And that had many NASCAR fans buzzing.
GH: When NASCAR brought its Champions Week to Nashville in December of 2019, the sport immediately saw the need to bring the Cup back to Music City due to the fan response. They approached our parent company, Dover Motorsports, and asked if we'd reopen and renovate our 21 year old facility that had been closed for the past 10 years. Imagine walking away from your house for 10 years and then coming back…the things you'd find and need to repair.
But now the track is back and better than ever. And although NASCAR intends to bring as many cup races to the Superspeedway as possible, it's also got other plans in the works.
GH: We strive to be more than just a racetrack. We're a live event destination for motorsports and family-friendly entertainment. Shortly after the announcement of our reopening in 2020, we held a kids' event with animatronic dinosaurs, and we're working to bring 50-100 other events a year to the track. With over 650 acres of usable space, we have the flexibility to make just about anything happen.
By his definition, Greg's job as a sports marketer is to create experiences people will always remember. So when he saw William's photo at the Superspeedway, he did a double take. Then, an idea popped into his head.
GH: I remember thinking 'Wow, what a passionate NASCAR fan this guy must be.' He was passionate enough to use his skin as a canvas to mark how many tracks he's visited and how often. We put out a call on social media to see if we could find him. I wanted to help this guy commemorate the sport he loves so much.
Within 10 minutes, NASCAR fans were able to help Greg locate William on Twitter.
GH: We DM'd him and asked if we could treat him to a Nashville Superspeedway tattoo. He said yes without any hesitation.
GH: Lucky for us, he was only an hour and 20 minutes away, so he was able to drive into town to do it.
It was an easy yes for William.
WC: I was so excited to be recognized. Miami declared me the 2017 NASCAR fan of the year, but this was a different kind of honor, and I couldn't wait. Greg is an excellent guy, a real cool dude.
Greg booked William an appointment at Hart & Huntington in Nashville to get the piece done. He'd heard about the shop through friends who told him it was the place to go.
GH: It was a no-brainer because of H&H's tie to motorsports in general. But beyond that, the staff was great, especially in helping us to figure out the best location for the tattoo.
They settled on William's calf, where the logo could be seen in all its glory. The whole process took about five hours.
GH: I was so impressed with Hart & Huntington. I have no tattoos but bought a shirt to support the brand because of the experience we had that day. I came with our videographer to capture the experience, and it felt like we'd been friends with the crew there for a long time. It was a rewarding and meaningful experience.
And totally unexpected.
GH: When I first walked it in, it wasn't what I had imagined.
GH: The shop was beautiful, much more aesthetically pleasing than even what you see on TV. I was really impressed with the décor and the private room we booked for William. The staff was super accommodating and professional.
William agreed.
WC: The shop on the inside is laid out perfectly and the people were really nice. Brandon, who did my tattoo, was great. He didn't drill hard or jab me; he took his time and did a 10/10 job. I have a perfect tattoo now. I've taken so many photos of it and zoomed in to try to find mistakes or imperfections, but it's flawless.
Image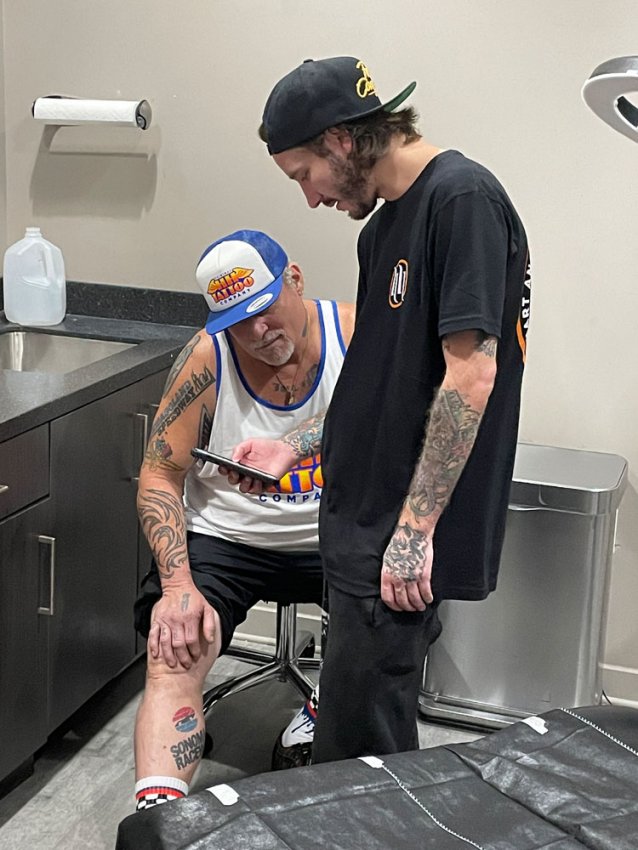 GH: It was a great experience. And the H&H team took their time to make sure they did the job right. Our logo for the Nashville Superspeedway isn't small, so there was a lot of black ink that had to go in. So much fine detail, too, with the lettering. Brandon did an incredible job with it.
Both Greg and William would refer any friend looking to get a tattoo to Hart & Huntington.
Image
WC: I'd drive them there myself! It's the nicest tattoo shop I've ever been in. I would recommend it to anyone. Next time I get another tattoo, I'm coming to Hart & Huntington.
And with plans to go to the Richmond, Darlington, Daytona and Bristol tracks in the next few months, it's likely he'll be here again pretty soon.