For Hart & Huntington tattoo artist Tarik Tatham, there's always been one clear path. An artist all his life, he was destined for the tattoo shop before he even reached adulthood.
Art got me into trouble more than anything else. It distracted me in school, but I just gravitated toward it. It just felt right.
Tarik remembers being intrigued by his grandmother's watercolor self-portrait when he was just a toddler. And his uncle, a New York City artist, would fill Tarik's fists with art supplies when he babysat him.
Art has always been the best way for me to express myself, negatively or positively. Especially as a teenager.
That's when things started to happen for him. He learned to play guitar at 13, but always found drawing portraits of girls was a better way to get their attention.
When you're a teenager, you're looking for your voice. Drawing was a weapon for my personality, a way to get under people's skin and get in good with them at the same time.
A selection of Tarik's drawings.
It was the late '90s, punk and grunge were going strong, but the idea of being a tattoo artist was trivial, not something you could make a career from. But it was the turning point that changed Tarik's life. He lived in Queens, NY at the time.
I was deep into the punk scene. My friends and I would take our bikes over to CBGB and watch the guys with mohawks and tattoos. It's what led me to start drawing hardcore punk logos. I wanted a tattoo like they had.
But the closest tattoo shop to his soon-to-be hometown of Spring Hill, FL was at least 15 miles away. Not exactly accessible. To make matters harder, his mom wanted him to go to college. She even offered to pay for his tuition, but only if he went to medical school.
Pretty much all my family is in the medical profession. I was the real black sheep. I knew in my heart that I didn't want that.
Instead, he ended up working as a cable installer by day and tattooing as an amateur at night, all while going to college for Graphic Arts.
I made it almost three-and-a-half years, then something really crazy happened.
He came to a fork in the road. Tarik was offered a full-time job with the cable company. A hefty salary. Stability. An opportunity to become an adult.
But the same day, a friend of mine called me to come work in a tattoo shop where I'd maybe make $100 every two weeks.
He trusted his gut, passed up the corporate gig and focused on pursuing a career in tattoo artistry.
At the time, I started seeing more tattoo shops opening up closer to where I lived. Before then, you'd rarely see people walking around with good tattoos. I'd have to flip through magazines for inspiration, I never got to see the real thing.
He took a few apprenticeships where he mastered the basics, refined his skills, brushed up his portfolio. But there were a lot of obstacles along the way to becoming a pro.
My parents fought this career path a lot. It wasn't until they saw I could put food on the table and a roof over my head by tattooing that they changed their minds.
And it didn't stop there. Tarik had so many people tell him tattooing was a white man's industry, that he wouldn't fit in.
I knew I made the right decision, it was just a matter of me being like 'no I love this.' It sounds cliché, but it was the naysayers and negative feedback that propelled me forward.
Tarik was goal-driven. He'd travel to conventions around the country, bringing his portfolio in tow so that established artists could rip it apart.
It was my driving force to make it better. There wasn't a whole lot of support back in the early 2000s for an aspiring tattoo artist, but it's a different world these days.
Now years into his career, his wife remains his strongest support system. And Tarik is still striving to improve with each and every sketch he draws.
The way I see it, you might be at the top of the pile now, but next year, no one's heard of you. This is an industry that's constantly evolving, and no one's going to hand it to you. You have to keep working hard, keep learning.
You'll find it tough to find someone more determined than Tarik. Every time he finishes a tattoo – even the ones that people gush over – he still questions it, wonders what he could have done differently.
It's important to make your customers happy and be recognized by your peers, but you also have to be proud of your own work. I look for the imperfections, the things that I could improve. It's the artist in me. It's what gets me up in the morning and striving to do better.
He's his biggest critic, but that's probably what makes him such an exceptional artist. And a humble one at that.
I want my tombstone to read 'he tried his best' or 'he gave it his all.' My wife once asked me if there's ever going to be a moment when I'll be truly satisfied with a tattoo I've done. I think that'll be the moment I stop doing this, and I hope that day never comes.
To him, tattooing is more than just new ink. It's a piece of art by his hand, something he can put his spin on. Something that has the potential to leave a lasting impact.
I try to find a way to connect with my customers, especially the ones who are getting tattoos in tribute to someone important to them. I'm like the bartender that everyone confides in. This is a meaningful moment for them, so I don't just try to give them a good tattoo, I also want to give them the chance to walk away with a memorable experience.
He sees his own tattoos as a blueprint of his life. Each one brings back a memory, a milestone moment. That's what he aims for in his work.
I'm not saving lives, I'm just drawing on people's skin, but if I can make a connection and deliver something meaningful, I'm happy.
At the H&H shop in Nashville, he can do exactly that. Tarik's worked in more than 38 shops throughout his career, six of which he owned. Some in Vegas, Venice Beach, Tampa … you name it. But it's here that he's really found his footing. 
I have so much respect for this place. H&H truly understands what goes into tattooing. Everything I like about the profession comes to fruition in this company. That's why I love it here.
Since starting at H&H, Tarik has drawn every day. In fact, he can't remember a time when he drew so much and so openly.
It flows from me because of how happy I am. The atmosphere, the people around me … everyone is always so positive.
Image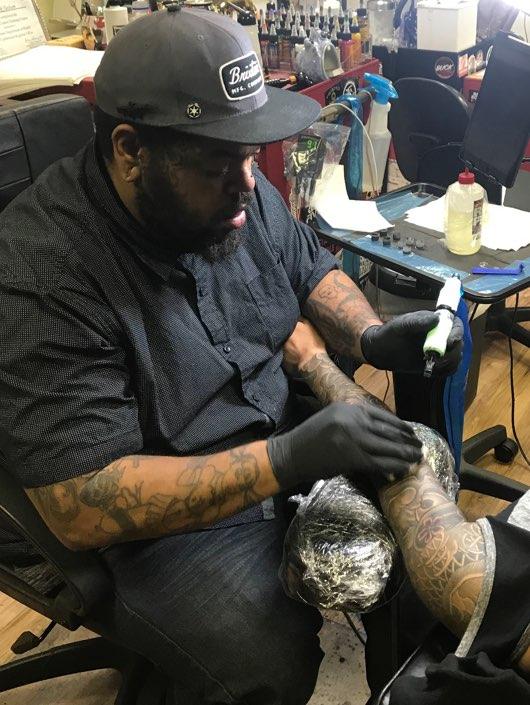 His style has changed a lot because of it. When he first started drawing, he was heavily into charcoal and graphite, so he always assumed he'd be pulled toward Black-and-Grey, but he's discovered a newfound love for color and the way it shines on the skin.
When you've been tattooing this long, it's like food – one day you like pickles, the next you can't stand them. I'm able to be free-flowing and creative here, playing with different styles depending on what my customers ask for. And if I'm not evolving, not pushing my boundaries, I feel like I'm holding myself back.