For an artist known for her Realism tattoos, Mel Lockett claims she doesn't have a good story to tell. That's simply not the case. Her beginnings were pretty straight forward but her passion is something else all together.
It wasn't even until I graduated college that I gave tattooing a try. I landed an apprenticeship, did what was asked of me and it really just flowed for me.
What she learned in her apprenticeship was more than creating great tattoos. She learned how to take rejection. Well.
It's almost impossible to teach people how to handle rejection.
My mentor was a very straight forward, old school guy who would tell it like it is. I learned that I'm more of a people pleaser. And that it's hard not to take things personal. 
To overcome that, Mel started to really refine her skills and step outside her comfort zone. She began drawing in styles she had never done before so she could cater to the different types of people coming in.
Image
I like to do as much of everything as possible. But I love abstract pieces.
Many refer to these as Watercolor. Mel appreciates the free flowing aspect of this type of work because she gets to abandon the lines a bit.
You don't have to stay within the confines of the line work, you can go a little crazy.
She's also a fan of Sacred Geometry and Lace work. Some of the best work she's done showcases these styles.
I did a Sacred Geometry piece that was one of my favorites. It's one of those tattoos that I stood back and thought, I can't believe I did that.
Some of her other favorites include a geometric clock, a full sleeve composed of a pin up girl and a lacework background, a mermaid watercolor sleeve and an Asian influenced sleeve with Sacred Geometry pieces woven in.
That sleeve was one of my top favorites because she came in and literally let me do whatever I wanted.
Growing up in North Carolina made the transition to Nashville a little easier.
It's like being home here. Big city but a small town feel.
Hart & Huntington Tattoo Co. gives her a little bit of everything when it comes to work and play.
The people, the atmosphere and the weather here is beautiful. You have mountains, hills, great scenery, it's a country mixed with rural vibe. When I go to work I get excited about what I get to do that day. I get everything here. We get traditional to really abstract and out there.
The tattoo community plays an important role in her success. She finds a lot of support in the shop and through social media—from creative inspiration to machine trouble shooting.
Image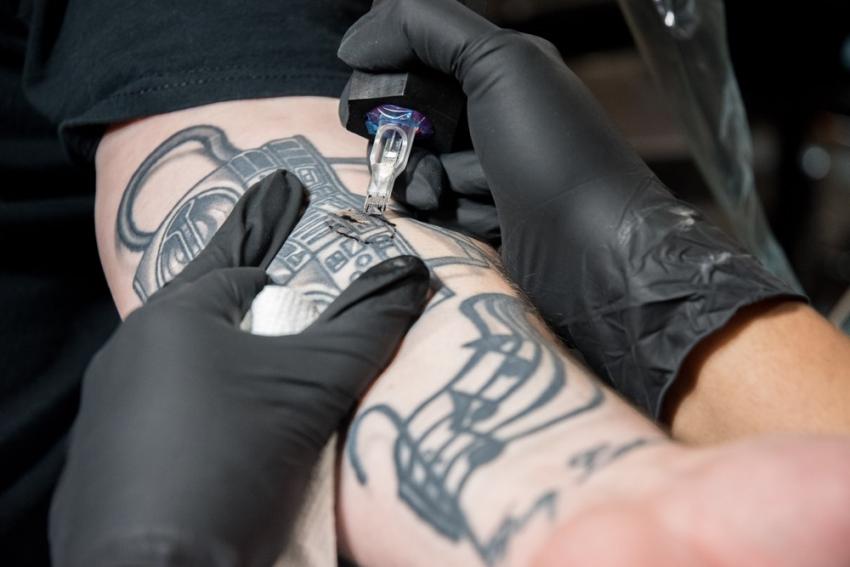 I'm a female, but this is a brotherhood. And I'm proud to be a part of it.
But it's her passion that gets Mel out of bed in the morning.
I get a flutter in my heart to think that there's so many people that are in love with the work that I've given them.
Because I've put so much of myself into my work. It's going to forever be with them. It's going to move and dance on their skin. I'm truly grateful.
As for how she wishes to be remembered? Well, Mel hopes she has a reputation for never playing it safe.
I'd like to be remembered as someone who pushed boundaries. I hope you can look at a piece years form now and recognize it's mine.
Image