There are Harry Potter fans, then there are super fans. The secret is out, Mel Lockett is the latter. So when the opportunity came up to go to a Harry Potter themed tattoo convention, Mel was all over it. And it was magical.
Her love for the series began when she was young, before she could even pronounce much of the language in the books. 
When I was 10 or 11, my mom had a friend who was a school teacher. She gave me my first Harry Potter book. I couldn't pronounce half of it, but I loved the story and the twist at the end. It got me hooked.
Harry Potter books give its readers more than a great story.
As a kid, it's cool to think theres a possibility that something like that could happen to you. Harry is a wizard, maybe I could be, too. It gives you hope that you could be special. Reading it, you let your mind wander.
In the beginning, her favorite character was Hermione Granger.
Like her, I was a snippy girl myself, thought I knew it all.
Later, she loved Luna Lovegood.
Her oddness spoke to me. She was a little crazy and weird, but they really let her be herself.
And her favorite book is Harry Potter and the Prisoner of Azkaban.
I've always been a time travel fan, so I love that book. And, I loved how they created the visuals of the story for the movie, it's how I saw it as I read it.
J.K. Rowling's story inspires Mel too–a wildly successful author who overcame so much to create an empire.
She was coming from nothing, she battled depression, but she had an idea. She pushed through, even when she was told it would never work. She pushed anyway. She's a role model.
Mel has quite a collection of Harry Potter memorabilia at home, she reluctantly admits.
Don't get me started. I have so much stuff. Every time we would go to Universal, we'd grab souvenirs. I have Horcruxes, Wands, A Dumbledore Placard, Chocolate Frogs, Weasley candy, the movie box set, you name it. I have tons and tons of Harry Potter memorabilia.
So it didn't take wizardry for Harry Potter to influence Mel's body of work at Hart & Huntington.
My first Harry Potter tattoos were of Deathly Hollows, Harry's glasses and lightning bolt, and other littler pieces. I had the opportunity to create a Three Brothers piece on a woman's shoulder and that really solidified my Harry Potter nerdism. It made me realize I want to do more. It was a little more custom and it's one of my favorite pieces.
When the convention came up, it was a no-brainer. Mel was thrilled and waited a year for it to happen. She finally got her invitation, complete with a wax seal that was symbolic of the movies.
The owners of Griffin Salve came by and said they were going to create a literature-based convention and that the first one will be Harry Potter. They sent me an acceptance letter from Hogwarts and everything.
Image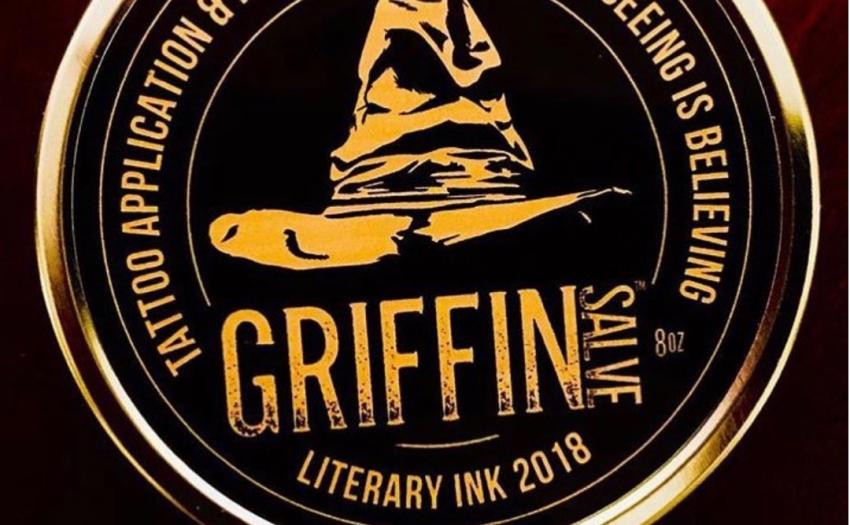 And the convention itself was perfection.
Every little detail was so well done. From the maps to the t-shirts to Sorting Hats, everything was done so beautifully. They did it up. Probably the most exciting convention I've ever been to. I've never seen that many people getting Harry Potter tattoos in one room, ever.
It was hard for Mel to think of one favorite tattoo from the show. There were quite a few.
Chris Toler did an amazing Dumbledore. It blew my mind, it was so soft and beautiful. Ebony Mellowship created a character from the Fantastic Beasts that was beautifully done as well. Amanda Boone did a sassy Dumbledore with this amazing fan made of wands.
Image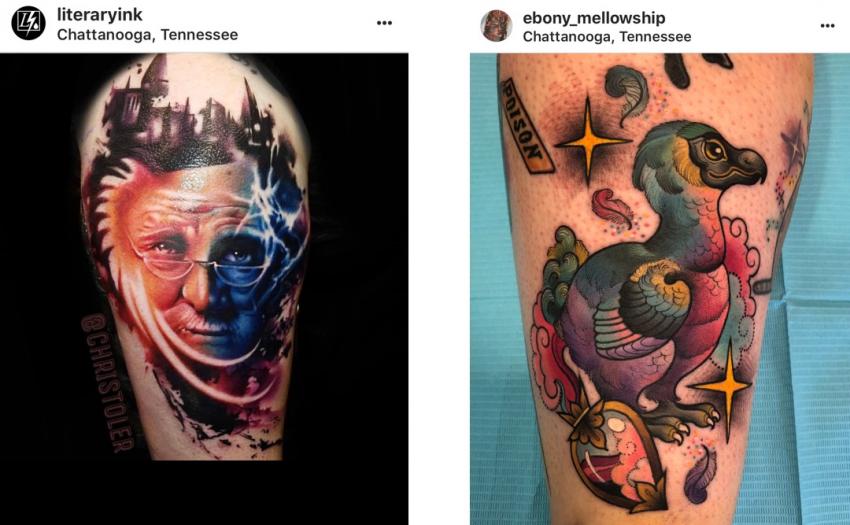 She even counts some of hers in her list of favorites.
I didn't expect to do that many Harry Potter tattoos at one time. I think my Dumbledore piece was my favorite. It was nerve wrecking and took me 5 hours to complete. But it was on my husband, thank God.
The convention inspired her for sure. Back at the shop, she's creating different Harry Potter pieces all the time. She'd love to do some Fantastic Beast imagery in the future. When clients come in for Harry Potter tattoos, Mel gives them more than they imagined.
When you create a tattoo with a super fan, it's awesome. You get to talk about it all without feeling judgement. I ask them, What house are you in? What's your favorite book, your favorite character? Also it helps to know how big of a fan they are because I am and I know so many details about it that they might miss. So it adds a little extra to the process and to their tattoo.
If there was another Harry Potter convention in the future, Mel would be there. She attends the annual Harry Potter convention in Orlando every year. Her bucket list wish is to go to England to see the Great Hall. But that's a little risky for us.
I'm nervous to go to England. I think if I went over there I don't know if I'd come back.
Surely there's a spell for that, right?