"It's a very intimate experience with clients. Sometimes you sit there for hours, so I want to get to know you. I want to hear your story. I want to hear about you."
For tattoo artist Kat, it's all about making a connection with her clients. For her, being a tattoo artist is just as much about her interactions with her clients as it is about creating beautiful tattoos. Not only is Kat an incredible artist, but she is also an incredible soul, and that's the first thing you'll notice when you meet this Southern California native.
"When a client comes in, I like to hear their story—why are they getting this tattoo—what it means or what it symbolizes—so I can pull from that influence and incorporate those extra details in their tattoo."
Most people have a story behind the tattoos they choose. And, for Kat, understanding that story adds another dimension to the art she creates.
"A lot of people get birth flowers for their kids. Knowing a little bit about their kids—their favorite colors, animals—helps me better create something for that person that is just as unique to their story."
Couple Kat's passion for learning about her clients with her innate artistic ability, and the results are remarkable.
"Knowing someone's story allows me to be artistically creative and free flow at the same time."
That's what sets Kat apart from other tattoo artists.
"I think the difference between many other tattoo artists and me is that I really like to get to know my clients—what they're looking for and want. I like making pieces for people that are truly unique and characteristic of the person I'm tattooing."
Throughout her career as a tattoo artist, Kat has worked with many different people during different chapters of their life—some good, some bad, some beautiful, some dark. It humbles her to be a part of their journey.
"Maybe they're healing from something, or maybe they're regaining strength or a part of themselves, but just being a part of that experience means so much to me."
As much as Kat gives others through her gift of tattooing, she gets just as much back. One particular client tugged at her heartstrings.
"A 78-year-old man came in to get his very first tattoo. He was a Navy veteran and told me that he had wanted to do this for years, but his wife wasn't a huge fan of tattoos. So he never got one. That was surprising since he was in the military during a time when getting a tattoo before deployment was very popular—especially in the Navy. That's where a lot of the American traditional tattoos originated. Unfortunately, the man's wife had passed away a year or two before he booked his appointment with me. He told me that this was something that he wanted to do for himself. So I said,' Alright, let's go ahead and do this!' Just getting to sit down with him and hear about his life, experience, and wisdom, he had so much to share. Being able to give him that first tattoo was honestly so beautiful. He cried and just talked about how much it meant to him."
For Kat, moments like this make her job so meaningful, and if she can touch someone's life while they are in her chair, it's that much sweeter.
Image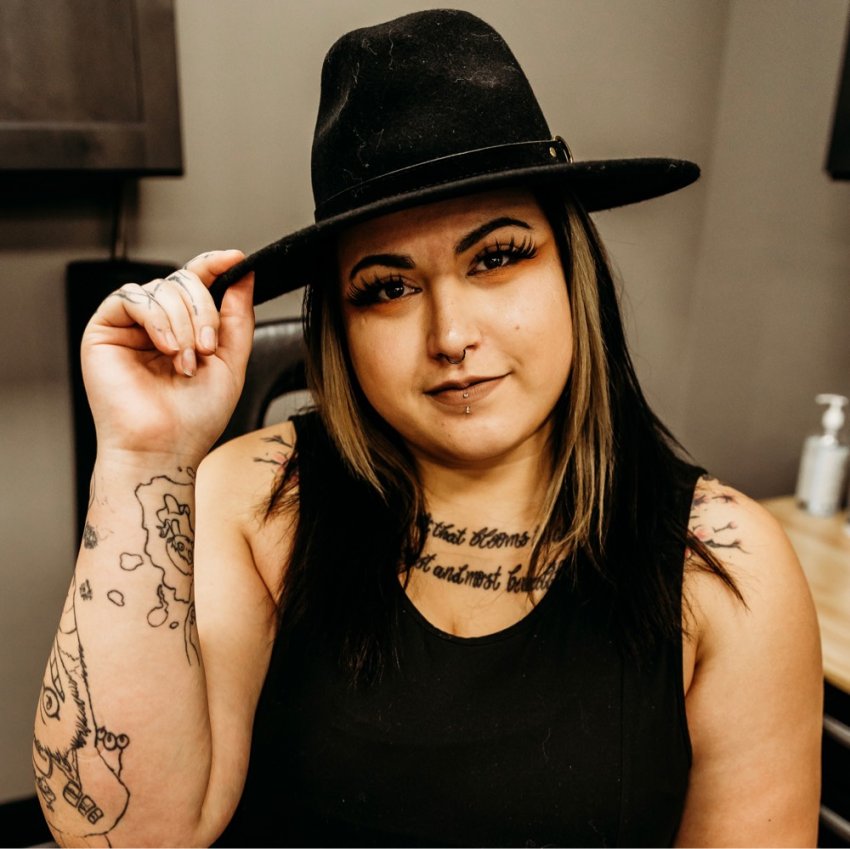 "I love connecting with my clients and building that relationship, even if this is the only time I will ever see them."
"I want to know about you. I want to know about your kids, your grandparents, family, and dog. I want to hear about your struggles and would love to share advice that may help you. Whatever I can provide during the tattooing experience—whatever I can give you—I want to nurture, not only artistically but person to person."
Artistically, Kat's creativity seems to organically transcend from her heart to her art. A self-dubbed "band nerd," she's been passionate about art since childhood. One of her first pieces was on her mother's wall.
"I've always been artistic and creative. I would just take anything and everything I could get my hands on and try to make something out of it. My mom used to joke about how my first art piece was with permanent markers on her walls. I've always been artistic and creative, and it's always been somewhat of an outlet for me."
Growing up in Southern California, Kat took full advantage of the art scene.
"I lived in the not-so-nice part of California growing up, so it definitely had a lot of challenges and adversities. But I also got to enjoy many beautiful things like museums, art galleries, vendors, and boutiques. I was a band nerd, so when I wasn't doing something art-related, I was practicing music—honor's band, symphonic winds, and competitions."
Art and music became a major part of Kat's life, filling much of her youth.
"In high school, I started building my art portfolio. I took sculpting 101. I also did all of the graphic design for my school's yearbook. I loved working with different mediums. My passion for art just kind of took off from there."
Kat's first introduction to tattooing occurred when she was just six years old. Her dad asked if she wanted to go with him to get his tattoo. She jumped at the opportunity. When her dad came out with his dragon tattoo, she was blown away by the idea that someone could create art on an actual person.
"I remember being like, 'That guy just put artwork on my dad! That guy put art on my dad's body!' My kid brain was just so amazed by the idea that somebody can put artwork on a living, breathing walking canvas like my dad."
That moment stuck with Kat. And no matter how many other careers crossed her mind she always came back to being a tattoo artist.
"Ever since I saw my dad get a tattoo, I thought, 'I wanna do that.' It just resonated with me in some way, shape, or form. As a kid, no matter what I thought I wanted to do—be a veterinarian, join the Airforce, become an art teacher—I always came back to tattooing."
But, Kat would have to learn to honor herself and that deep-rooted desire to follow her dreams, even if it meant growing a thick skin and taking other people's opinions with a grain of salt.
"Many people told me I shouldn't be a tattoo artist because no one will accept me. I underwent very big life changes that put me in some tough spots. So, I had to decide between my life and my dream career. I was learning to stand up for myself and have a voice in what I wanted to do with my career and who I wanted to be as an artist."
So Kat set out to find an apprenticeship at a local tattoo shop.
"I ended up getting an apprenticeship in California. I enjoyed being surrounded by very diverse, talented people. I wanted to be open to opportunities and new ways of tattooing, so I would pick the other artist's brains and learn about their favorite types of machines, the products they prefer, and why they liked them. Seeing people already in this industry and very well established, for that matter, further fed my drive to want to become a tattoo artist."
Unfortunately, due to unforeseen circumstances, Kat had to leave her apprenticeship. But, once she regained her footing in life, she decided she was going back to tattooing, and this time, she wasn't going to let anything come between her and her dreams–even if she took a more unconventional path.
"I ended up going backward in a sense. I opened up my tattoo shop, and I did that for about five years until we moved here to Nashville. It was that moment when I said, 'You know what? I'm going to sell the business, and instead of focusing on being a business owner, I want to focus on being a tattoo artist.'"
Moving to Nashville was the perfect time for Kat to shift gears.
"We moved out here, and I started working as a tattoo artist at another location. I learned a lot, and I loved the artists I worked with. They were phenomenal, but the shop and the environment didn't nurture me as an artist. So I was looking for another place to work here in Tennessee."
Before moving to Nashville, Kat was already talking with Yasir, manager at Hart & Huntington Nashville, about guest spotting, so when he asked her to come in, she jumped on the opportunity.
"He asked if I wanted to guest spot and go from there—see how we fit. I was like, 100 percent, 100 percent! All the dominoes fell into place."
Image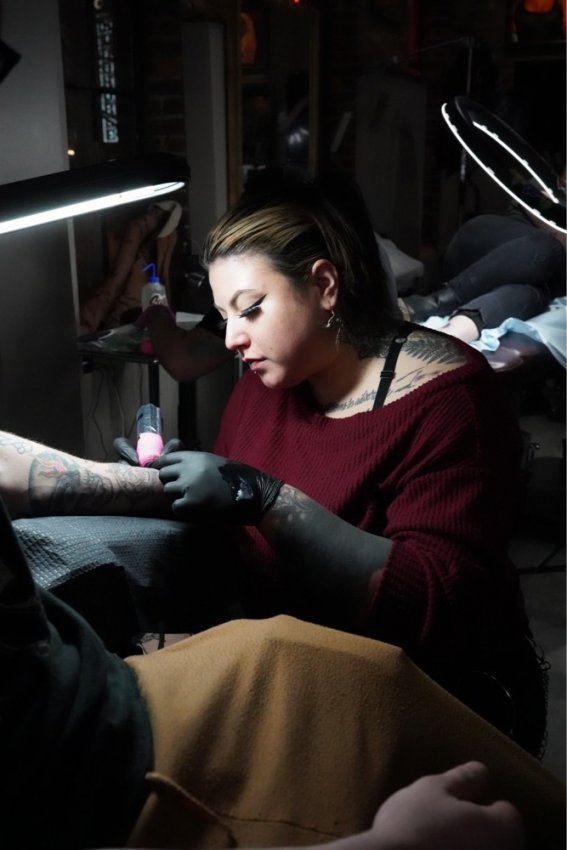 "I immediately fell in love with Hart & Huntington from my first day guest spotting."
"I loved the atmosphere, the artists, the team—and I mean the entire team—the workflow, and the amount of support. The drive and the push at that facility and that location is just amazing and has already really nurtured a lot of things that I needed and was looking for as an artist."
For Kat, it's the way the team pushes each other that makes all the difference for her as an artist and as a person.
"It's a very healthy dynamic. That is something that I love. As an artist, I don't want to become stagnant in my career—feel like I've learned everything I can, because that's never the case. As a tattoo artist, our industry is always changing and growing—new things are coming out, new products, new styles, new machines, and new techniques, and so we're constantly adapting and having to learn. So being surrounded by people that facilitate that makes it much more enjoyable."
Pushing herself and learning new styles drives Kat as an artist. So that means whatever style you're looking for, Kat's your girl. She'll take your story, she'll take your style and she'll create a masterpiece truly unique to you.
"So far, I have yet to choose one specific style. I am a diverse artist, so I like working with different mediums. I like the unknown factors in the way that one day I could be doing an epic Neotraditional piece and the next day, doing this stunning Fine-Line detailed floral piece. Each style has things that I resonate with as an artist. I enjoy creating, so I enjoy that artistic aspect."
Kat enjoys creating and making connections. Connections that she will use to make turn your story into a one-of-a-kind tattoo.
"I want to hear your story, so I can take the design you want and make it yours."